Tactical Operations Unit
The Tactical Operations Unit is comprised of several units, including S.W.A.T., S.R.T., Intelligence and Negotiations, the Dive Team, K9 and Drone and Robot Operations. Each of these units is overseen by the Tactical Operations Command.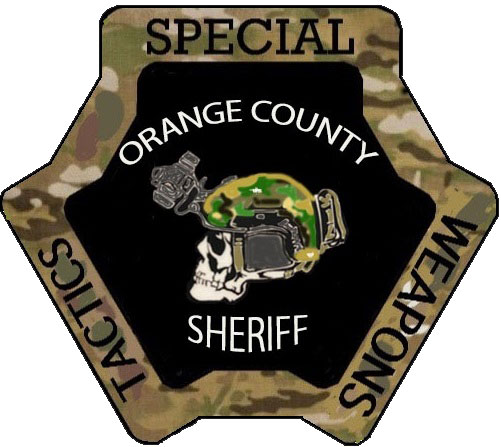 Special Weapons and Tactics (SWAT)
The Special Weapons and Tactics Team is comprised of highly trained deputies in Orange County. They are specifically trained to deal with high-risk situations such as search and arrest warrants, armed and barricaded suspects, mentally deranged persons and hostage rescue.
The Special Weapons and Tactics Team is a volunteer unit where the members have other full-time positions inside their respective departments. Membership on the team requires members to stay in peak physical condition and attend monthly required training.
The Special Weapons and Tactics Team is ready and able to handle the most extreme law enforcement situations. Team members are a very dedicated and professional group of Deputies who have made a total commitment to protecting the citizens of Orange County.
The Special Response Team (SRT)
The Special Response Team is comprised pf Sheriff's Office personnel who can provide support to the SWAT team. Their other duties include responding to riots and civil unrest, as well as disasters within our community.
Intelligence/Hostage Negotiations
Intelligence and Hostage Negotiations are vital to tactical operations. They provide communication with suspects and relay information to the Tactical teams. This unit is comprised of five individuals who work closely together to collect data for tactical operations. Intelligence Officers gather information on all persons involved in an incident.
DIVE Team
The Dive Team is made up of personnel from the Sheriff's Office, as well as other agencies. This unit is used for a wide variety of operations, such as body recovery, evidence collection, and any other maritime operation they are needed for.
Drone/Robot Operations
Drone and Robot operations consist of highly trained personnel who can operate these machines precisely in most situations. The Sheriff's Office has three drones and two robots and two operators for each. Drones and robots have proven to be vital tools for this agency.